Featured Products
CERTIFICATE SPECIAL 7 or 13 months. Learn more.
Learn more about finances on our blog "Making Cents". Learn more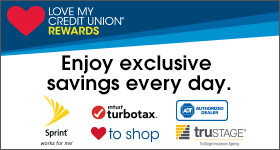 Information
The Credit Union works to employ every means possible to protect our member's privacy and from the threats of bad players. Read more.
Reward Yourself with a ScoreCard Rewards MasterCard. Apply now.
Go to main navigation