Celebrating 60 Years!
Sixty years ago, in 1959, a group of educators in the Austintown school system started a financial cooperative to begin saving and borrowing together. Austintown School Employees Credit Union was born from an idea that by working together - much can be accomplished. Today, ASECU has grown to five offices, serving Mahoning, Trumbull and Columbiana counties. We have helped thousands of people in our communities reach their financial goals while upholding the cooperative spirit of credit unions, "people helping people".
Much has changed in the last 60 years, including our name, but one thing remains the same, we continue to work together to offer the best financial services around. As a not for profit financial cooperative, Associated School Employees Credit Union exists to serve the community. As we embark on our 60th year, we would like to thank you for choosing us as your financial institution. We will continue to serve you with the best place to save and borrow at reasonable and affordable rates. Thank you for your Membership!
JOIN US FOR ASECU'S 60TH ANNIVERSARY CELEBRATION - APRIL 27TH @ 2PM, STACEY PAVILION - AUSTINTOWN TOWNSHIP PARK
Please join us for our 60th Anniversary Celebration on Saturday April 27, 2019 at 2:00pm inside the Stacey Pavilion, located at Austintown Township Park. There will food, fun and prizes. All ASECU Members are welcome and we encourage you to bring a friend so they too can enjoy the benefits of credit union membership! Watch your email for more details. We hope to see you on April 27th!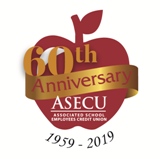 Go to main navigation